Welding
Whether it's steel, stainless or aluminum, we have the resources and experience to tackle both intricate and larger scale welding projects.
Production Welding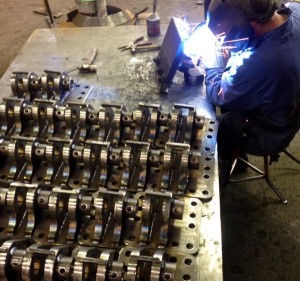 All production welding is performed to CWB W47.1 and W59 specifications using GMAW and FCAW processes. We pride ourselves in developing innovative solutions to lowering our production welding costs while maintaining a high standard of quality.
Custom Fabrication
We have numerous Welders up to 300 Amps for GMAW, FCAW, TIG and SMAW welding. We also have Air-Arc gouging for material removal, and mobile welding machines for on-site welding. Custom Fabrication is available for a large variety of jobs in most industries including Forestry, Trucking, Agriculture, Transportation,Manufacturing and Construction.